I recall an incident that occurred early in my safety career where an employee almost fell while framing the second floor of a structure.  
You may think to yourself, that is one lucky worker!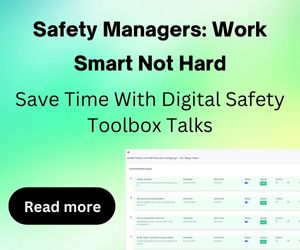 However, the truth of the matter is that there was a great deal of effort made by the employer to ensure that before any employee can work above 6 feet, they were trained. 
In this instance, the employee worked for a framing contractor that had a comprehensive safety program that included fall protection plans and pre task assessments.
During the "Near Miss Incident Investigation" we reviewed the employees training records, the companies Health and Safety Program.
Including the Fall Protection Plan, weekly toolbox talks and other safety information.
From an analysis of those documents and an interview with the employee, we came to the conclusion that, if the company did not place such emphasis on their employees safety, then that worker or someone else could have suffered a fall that could be fatal.
Yes, that seems like a lot of work.
But when it comes to protecting your human capital (your employees), there should never be a "that takes too much time attitude".
If you're a health and safety manager or supervisor familiar with occupational health and safety, then you know by now that every company should NEEDS a solid safety plan.  
When a company creates a safety program that identifies hazards and applies methods to prevent injuries and accidents, that is probably one of the best decisions that organization made.
Not having a robust workplace safety plan can cost your company financially
The health and safety of your employees must always be placed above everything else.
I have also seen a situation where a contractor was fined for negligence.
Because they did not conduct safety training or have any form of fall protection or health and safety plan.  
This contractor had an employee that fell from a roof and was paralyzed as a result.
When the accident occurred, we were called in from another site to investigate the incident.
Also a present on site investigating the accident was a Compliance Safety and Health Officer (CSHO) from the Occupational Safety and Health Administration (OSHA).
One important thing to remember is that if an employee is injured and certain conditions arise, by law you must notify OSHA within certain timeframes.
We will not bore you with the details, let's just say that this employer was fined by OSHA.
Having a safety program is a necessity if you have employees working for you. Not only should you have a safety program, but it should also be regularly updated and modified if changes occur.
Or if you determine that the contents of the plan are no longer valid or provide suitable protection for your employees.
What is a workplace safety plan
A health and safety plan is a written document that outlines the process that:
Identifies physical and health hazards in the workplace that could endanger employees
Outlines the roles and responsibilities of each individual,
Identifies steps and procedures for preventing or mitigating accidents,
Outlines written safety protocols that must be followed when completing tasks, identifying hazards, using specific equipment, and emergency and accident response actions
Employee training and effective communication
Recordkeeping
This plan can be as specific as necessary and is your step-by-step guide used to keep your workers safe and healthy while at work.
Creating a health and safety plan for your organization is a skill set that every health and safety professional should master.
If you are unable to identify workplace hazards, or draft a step-by-step safety protocol that should be followed when working in hazardous situations, how can you protect employees from harm?
If you have not mastered this skill, or your company does not currently have a health and safety program, you could see an increase in:
Workplace accidents
High workers compensation insurance premiums,
OSHA fines
Lack of employee morale
Not to mention your company could lose existing contracts because of your companies safety record
Step 1: Do your research before writing a workplace safety plan
When writing a safety plan for your organization, research should be performed before sitting down to write.
The research could include the following items:
#1 Understand the Hazards in Your Industry and Regulatory Compliance Standards
One of the first things you should review when writing a health and safety program is, the regulatory compliance that applies to your specific industry or work activity.
The Occupational Safety and Health Administration (OSHA) establishes workplace safety standards and is tasked to ensure workers are provided with a safe and healthy workplace.
Therefore, it is important to understand the OSHA standards that applies to your specific activity and industry.
For instance, if you are a framing contractor, and you know that your employees will be exposed to falls from heights of 6 feet or greater.
As a result, OSHA requires your company to have a fall protection plan in addition to a health and safety plan to protect workers from other hazards. 
Also, there's a training component that is involved with fall protection plans.
It is always best to visit OSHA's website to review the requirements for your specific industry and work activity. This is always the best starting point.
#2 Identify potential risks employees could encounter in the workplace.
This can be achieved by completing workplace inspections, conducting hazard assessments, performing behavior-based safety observations, and reviewing past injury and illness logs. 
Additionally, you could reach out to your workers compensation insurance carrier to research past accidents.
Reviewing this information could provide insight for which areas need immediate attention.  
When writing the plan, you must be able to understand the risks for each individual task performed by your employees. Once you have identified the potential risks, then it will be easier to create safe work practices and train employees to protect themselves against those hazards.
#3 Learn the Training Requirements
This is another vital component when drafting the safety plan. What are the training requirements associated with the plan?
OSHA has some specific training requirements for specific workplace hazards, therefore, it's important to be familiar with the training requirements.
Let's take a look at two scenarios where the training requirements are completely different.
An Asbestos Abatement Contractor. Vs Painting Contractor
Asbestos abatement contractors are held to a high standard when it comes to employee training because of the nature of the asbestos hazard.
For instance, workers who are involved with asbestos remediation work, under State and Federal requirements must be trained under the Asbestos Model Accreditation Plan.
These training courses range in duration from 32 to 40 hours mandatory. Also, an annual refresher course must be completed by the worker given by an accredited third party.
In comparison the training requirements for a painting contractor.
A painter may only need to be trained on ladder safety initially when assigned to the job or if the supervisor on site determines that the individual needs additional safety training for using ladders properly. 
Here we see the two different training requirements.
First the asbestos abatement contractor must be trained as specifically outlined by State and Federal regulations.
And must be completed annually versus the painter being trained initially or if the supervisor thinks the worker needs additional training. 
It is important that you or the safety manager drafting the plans understand the different training requirements for employees.
Step 2: Make sure it's easy to communicate to employees
Once you have completed all the research and you have identified the potential risks that employees may face, now is the time to sit and begin drafting your safety plan.
When drafting the plan, it is vital that the plan is clear and easily understood by the end user – the worker. 
The plans safety procedures, each employee's roles and responsibilities, expectations, and adherence should be spelled out to avoid any potential confusion.
There are certain elements that should be included according to OSHA. Some of the basic safety elements you want to cover in your health and safety plan includes:
The policy statements.
List of responsible persons.
Methods for identifying hazards.
Hazard controls and safe work practices used to mitigate those hazards.
Emergency response procedures for accidents.
Employee training and communication.
Record keeping (for training information, inspections, illness, and injury logs, etc.)
The above list is not all inclusive and will be specific to your work activity and the industry classification of your company.
Step 3: Distribute and regularly enforce safety plan
Once you have successfully created the health and safety plan, the next challenge is finding a way of distribute this information to your employees.
Historically this has been challenging for many safety professionals and there are several reasons why.
The challenges relate to the time, effort, and diligence necessary to train employees correctly and consistently.
Also, there is the added difficulty of ensuring that employees retain the information and apply the safety practices when completing their daily activities.
This is where the Safelyio program can be an effective tool to communicate health and safety information to your employees in simple digestible chunks.
Let's say that you want to train your employees on a section of your safety plan. In this case Slip Trip and Fall Prevention.
Step 1
Create a Safety Drip Campaign, in this instance because we are providing the section on Slip Trip and Fall Prevention, we can call this campaign the "Slip Trip and Fall Section"
Step 2
Create the message or the section of the safety plan that will be sent out.
So, for this scenario we will title the message "Slip Trip and Fall Prevention Policy for ABC Construction Employees"
Step 3
Verify and view the message that will be sent out
Step 4
Now that the message has been created and ready to be sent to your employees. The final step is to go ahead and send out the message with the Health and safety policy information.
Here you can schedule the time and date that you want the employees to get the message.
The employee receives the message, in text message (SMS) and in their email.
These delivery methods increase employee participation because they will have access to the information at their fingertips.
To test the employee's knowledge on the information, the Safelyio program includes a "Add Quiz " feature to ask specific questions relating to the policy that was sent out.
When they get those answers correct, the employee clicks the "I acknowledge" button.
From that point, the information will be stored in the database and be ready in case the safety manager or manager wants to pull the information to verify that the employee completed the process.
Final Thoughts
If you want to learn more about how Safelyio can revolutionize and automate your company's safety culture, request a demo here.