Consistently doing toolbox talks is hard.
I mean, really good safety talks that educates your team.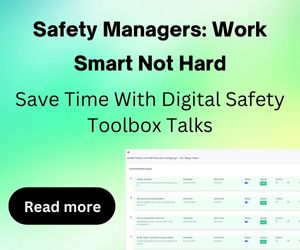 I'm not talking about just grabbing some content off a random "safety toolbox talk blog", print and read it to the team.
No, that mediocre approach won't cut it.
Doing it like that won't keep the employee's attention. In fact, they can't wait for the meeting to be over. There's a better way to do it.
How To Do Toolbox Talks Your Team Will Look Forward To
In this guide, we're going to outline a 2 weeks toolbox talk schedule that you can use in your own company.
We found that the ideal frequency for toolbox talks is 3-4 times a week. For this scenario, we will use the 3 times a week frequency.
Also, let's assume you have a construction company with 100s of employees. However this framework can be mimicked in other industries as well.
Here's a quick overview of the toolbox topics we will cover:
Week 1 – Ladder Safety
Week 2 – Fire Extinguishers
You will be able to create talks, schedule and distribute them to your team in small digestible bits.
And most of all, automate the process.
Here's the thing, people learn best in smaller chunks of information.
When you apply the concept of micro-learning to safety education, it becomes a game-changer because your team can learn concepts in 2 minutes or less.
Let's get started
Week 1: Ladder Safety
For week one, let's use some short easy-to-consume ladder safety talks.
Monday – Choosing The Right Ladder
Wednesday – Inspecting The Ladder
Friday – How To Use Ladders Safely
Week 2: Fire Extinguishers
In the second week let's educate the team about fire extinguishers safety measures.
Monday – How To Inspect Fire Extinguishers
Wednesday – Fire Extinguishers Care And Maintenance
Friday – Workplace Fire Prevention
Scheduling the toolbox talks in Safelyio
Now that we have 2 weeks worth toolbox talks to be sent out let's schedule them.
It's very easy to do in Safelyio.
Remember, when you schedule talks in Safeylio, it delivers the content via SMS directly to your employees mobile phone. SMS has the has the highest open rate of 98% rate which your team will see it.
Note: This 2 week safety campaign is just an example. You can have toolbox talks scheduled and running for weeks and months in advance.
I'll show you how to set up week 1 Monday and you would just repeat the same steps for the other days in the campaign.
For this example let's say our team is located in Austin TX.
Go to teams and create a new team called "Austin Team".
You will be given an invite link that you can email to the employees at the Austin location, so they can sign up to receive your talks.
After everyone at the Austin location has signed up, next let's create a new campaign called "Austin Team 2 Week Safety Campaign".
After creating a new campaign it's time to create a toolbox talk.
One of my favorite features about Safelyio is that it comes with a toolbox library that makes it easy to copy ready-made video talks to your campaign.
This makes it easy for safety managers as you don't have to worry about video production.
Ok back to our 2 week campaign.
In week 1, Monday's toolbox talk will be about how to properly select the right ladder for the right job.
So let's go to the toolbox library and search for "ladder safety", you'll get a bunch of relevant results.
The video about "Choosing the right ladder" is already integrated into Safelyio's library let's preview it.
Ok great let's simply copy it to our 2 week campaign.
Now let's go ahead and select what time on Monday the Austin team should receive this toolbox talk via SMS message.
In this example let's put it to 9:15 AM and make sure to select the correct time zone. Austin is in the state of Texas which is on central standard time.
Select the create button to save. Now that video talk will be sent to all employees on that date and time.
After an employee has watched the video they click "I acknowledge" button to confirm that they have watched that toolbox talk.
That data will be saved in the cloud so that the safety manager can pull that employee's toolbox data when needed.
Frequently Asked Questions
How do I know which toolbox talk topics to schedule?
For example if you know that one of your locations had a ladder accident then you might want to run a campaign to re-educate and emphasize a lot of ladder safety measures.
In fact you might want to schedule a ladder safety talk for that location every week just to remind them about safety protocols to prevent any further accidents.
Another way is to run a safety audit within your organization and find weak points in the current safety policies.
You will get a bunch of ideas on toolbox talks then you can go ahead and create toolbox content around those topics.
To make the process even easier you can request from our team to create custom toolbox talks that are made specifically for your company.
How long should a toolbox campaigns last?
The thing about safety education is that it never ends.
It's not like you can just run a campaign for 1 week and expect your employees to "get it" right away.
If you want safety measures to be at the forefront of your employees mind at all times, running campaigns 3 times a week is ideal.
Doing this consistently shows your employees that the company takes safety very seriously therefore they will eventually develop a "safety-first" mindset.
What are the best toolbox talk formats?
The most effective format we have seen is video.
Nothing beats video in terms of engagement as it helps employees learn safety concepts pretty quickly.
However, audio content have been exploding in 2021. People are consuming audio content more than ever before.
This presents an opportunity for safety managers as well.
For example you can record a quick 30 seconds safety reminder for your team and have it scheduled in the Safelyio just like videos.
That being said, audio toolbox talks are best suited for safety concepts that don't require much visuals to learn.
What are the best times of day to send out talks?
Ideally, you would want to schedule talks to be sent out right before production time begins.
So for example if work begins at 9 AM then experiment with sending talks 8:45 AM.
Or you can send it out 9:15 AM.
Every company schedule is different so you would have to experiment and see which time is ideal for your team.
But it's best to let your team consume toolbox talks early before production time begins.
That way it's fresh in their minds.
Final Thoughts
If you learn more about how Safelyio can revolutionize your company's safety culture, request a demo here.