Back injuries are serious.
It change someone's life forever in a negative way. Whether that person is your employee or customer, you want to make sure preventative measures are put in place to protect them and your business from a legal nightmare.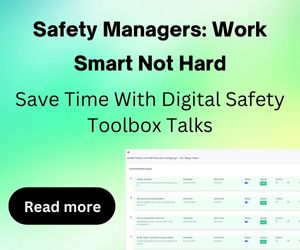 Here some tips safety managers can use to educate employees.
TIP #1: Encourage Employees to Exercise
Exercise is a good way to strengthen muscles around your spinal column.
This will help support the joints in your spine. Make sure that you warm up before exercising, stretch after exercising and do not exercise on hard surfaces which put strain on your back muscles.
TIP #2: Standup Every 30-40 Minutes
Avoid sitting for long periods of time as this also puts strain on the backs of people who work at desk jobs (or who sit down a lot).
If you have a job where you spend most of your day sitting down then use an anti-fatigue mat beneath your feet. Make sure that you stretch your legs and get up to move around every hour or so during the course of the work day.
TIP # 3: Avoid lifting heavy objects
If a weight is too heavy for you, ask someone to help you lift it.
This will allow you to reduce the risk of injury if anything goes wrong (which is more likely when handling something heavy).
Use equipment such as hand trucks or pallet jacks in order to move large items rather than moving them by yourself which puts extra strain on your back muscles and joints.
TIP #4: Shoes with good support are very important in preventing back injuries
Many back problems can be traced back to shoes without adequate arch supports – this makes the muscles in your back and legs work harder.
Choose good quality shoes that will give you support and cushioning for your feet – this is critical for preventing back injuries.
TIP #5: Keep a notebook handy in order to track the movements that cause you physical pain or discomfort
Even if it is very minor discomfort. Tracking when and where the pain occurs will help you to identify possible movement patterns which can lead to back injury (such as bending over too far, lifting objects incorrectly, etc.).
This information will be helpful during prevention exercises such as stretching, strengthening or exercise programs. Also, this information will be beneficial when speaking to your medical provider.
TIP #6: Use proper posture and lifting techniques at all times
Learn how to stand up straight so that your spine is aligned properly with your hips and shoulders. Avoid slouching and hunching forward – this can cause a chain reaction which leads to serious back problems.
TIP #7: Avoid sitting in awkward positions for extended periods of time
This puts added stress on your back muscles, joints and spinal column (as well as blood flow). Make sure to take breaks every hour or so in order to change your posture and move around.
TIP #8: If you are lifting something heavy then do not stoop over while doing it.
Instead stand upright with your feet shoulder width apart. Bend at the knees instead of bending at the waist when picking up an object such as boxes from the floor or table etc.
Try to keep objects that you frequently need within arms reach in order to avoid having to bend over too often.
TIP #9: Make sure that your work station has good ergonomics
This will help you to avoid awkward or uncomfortable postures and movements which can strain your back muscles.
Allow plenty of time to adjust furniture at home in order to create a 'Home Work Stations' with good support for your back, stress relief on wrists and hands, spaciousness around the keyboard-mouse, legroom under your desk etc..
TIP #10: Maintain good communication with co-workers
A lot of workplace injuries could be avoided if people remained mindful of their surroundings and did not rush into things which caused them injury (especially lifting).
By keeping an eye out for those around you who may need a helping hand, you can provide assistance while also preventing someone else from hurting themselves.
TIP #11: Drinking plenty of water
Staying hydrated is very important for helping to lubricate joints and keeping your muscles flexible so that they can be more limber and less likely to become sore or stiff.
Try drinking a glass of water before bedtime as well – this will help promote better rest and recovery throughout the night.